Techconnect Company Limited,

the system integrator who focus on Business Improvement Solution, Industrial and Logistic Products as well as Computer Hardware. We

deliver configurable business solutions that are intuitive to use at reasonable price.
Introducing BookDrive DIY,the easiest and fastest way to scan a book.
<![if !vml]>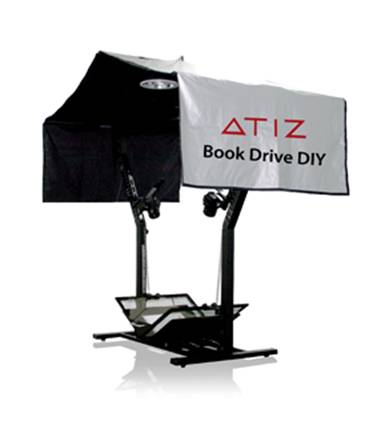 <![endif]>BookDrive DIY is the world's only digital camera-based scanning solution. In the past, flatbed and overhead scanners were the common tool we used for scanning documents.They were the right tools at the time. But they were very slow. To scan just one book using one of those scanners, you wasted hours and hours in flipping the book back and forth, and waiting for the scanner to finish scanning each page … very slowly.
Thanks to the advancement in digital cameras, now we have digital cameras that are inexpensive and can shoot millions of pixels in a fraction of a second, making it a better tool to capture information.
We take advantage of this fact and turn it into a great book scanning machine that can scan books at about 1,000 pages an hour and that produces superior images to ones produced by the traditional scanners. Whether you are a small school, a local library, or an imaging center, you can now afford a low cost, highly productive scanning solution. It is fast, affordable and upgradable. Click for info
<![if !vml]> <![endif]>
Other Product Line in Techconnect
Business Improvement Solutions
With our business improvement solutions, we enable organizations to operate more efficiently & effectively. Our Electronic Document Management System helps our clients to increase the efficiency of existing internal process and operation. Replacing the previously cumbersome paper-based system can save much time and resources in organization. With the Knowledge Management System, User can search all knowledge base online with full text search engine. Key user can design his own knowledge form to insert knowledge information which support many level of knowledge category. Business Process Management is an electronic document routing system that enables users to process work more efficiently, faster, and more accurately than with traditional paper processing. Business Process Management is beneficial whenever successive points of input or action are required in order to complete a task, process, or procedure. Those solutions are already available in Portal package combines varieties Business applications into affordable, easy to use.
<![if !vml]><![endif]>
The Business Improvement Solutions available:
Electronic Document Management System Click for info:
Knowledge Management System Click for info:
Portal Management (Organization Portal: Digital web Part/Web board/News Feeder/Announcement etc.) Click for info:
<![if !vml]>

<![endif]> Business Process Management Click for info:
<![if !vml]>

<![endif]> Scan Service Click for info:
Industrial and Logistic Products
Techconnect specialize in supplying small and large Labeling Systems/Solutions including Professional Services, Software, Printers, Labels, Ribbons and Service. Focusing on barcoding, RFID, point-of-sale equipment and labels, our product experts and customer service representatives have years of experience. We are committed to providing you the easiest and most efficient shopping experience. All equipment is new, directly from the manufacturer.
<![if !vml]><![endif]>
Some applications and services include:
Barcode and Labeling Solution Click for info:
Point-of-sale Solution
RFID Solution
Hardware Provider
Techconnect as the reseller for International Brands Computer, we offer all product line of Business PCs, Commercial Notebook, Enterprise Server and Storage, Monitor and LCD TV.
Techconnect Company Limited
135/17 8th Floor, Amornphan 205 Tower 2., Soi Nathong, Rachadapisek Road, Din-Daeng Bangkok 10400 Tel : 0 2692 2740 Fax : 0 2692 2741
E-mail : sales@techconnect.co.th